S

elf-

T

utoring

E

xploration and

P

reparation

S

teps (

STEPS

)
To view the sample STEPS exercises on this page, you must have Adobe Acrobat Reader
Please close the Acrobat window to return to this page after viewing each STEPS exercise.
WWB Self-Tutoring Exploration and Preparation Steps (STEPS) provides interactive exercises that identify the kind of information that each analysis provides. Each STEPS document, with its set of instructions, leads students through a learning strategy that help them develop an understanding of the concepts and rules they will need in order to make appropriate revisions in their compositions.
All 29 STEPS exercises provided by WWB are read-only documents. Therefore, any typing that students enter in a STEPS document will be deleted when they close the STEPS document. However, they may print the STEPS documents with their responses, and they may save the STEPS documents for later use or reference. They must open the saved documents in Microsoft Word.
Unlike the documents included with the software, these web pages provide only a viewable representation of the STEPS documents. Pagination, animation, and other formatting have been lost in pdf conversion.
Examples of STEPS exercises below are: 1.1.b Content - Development - Introduction, 1.3.a Content - Vague Vocabulary, 3.1 Verbs - To Be, 5.5 Words - Transitions, and 6.4 Punctuation - Possible Fragments and Long Sentences. The following STEPS exercises that are marked with teal arrows are provide on this page.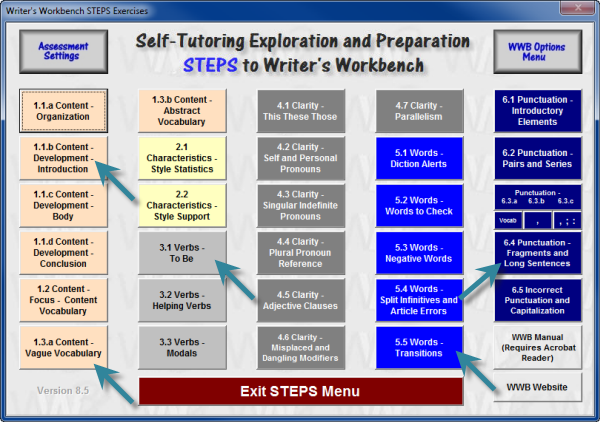 Previous Page