Writer's Workbench Analysis Programs
To view the Quick Guide, sample document, and analyses, you must have Adobe Acrobat Reader.
The Quick Guide, sample composition, and analyses will pop up a new window.
Please close the Acrobat Reader window to return to this page after viewing.
Click here to view the Writer's Workbench Analysis Programs Quick Guide.
The Analysis Programs Menu looks similar to the display below. Analyses from the sample composition can be displayed by clicking on each of the boxes below. While showing feedback provided by Writer's Workbench, the analyses do not portray the interactive nature of Writer's Workbench when used with Microsoft Word.
Click here to view our sample composition, The Tempest, used to create the analyses.
Note: Analysis examples all include MoreInfo, denoted by Times New Roman font. The analysis itself is denoted by Arial font.
Select the analysis you would like to view by clicking on the appropriate button below.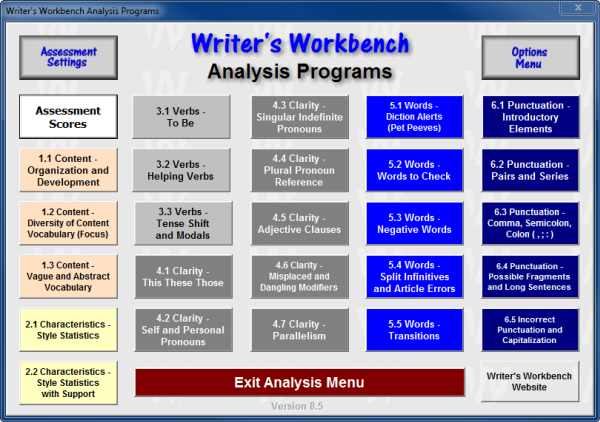 Previous Page