Word 2016 view composition work-around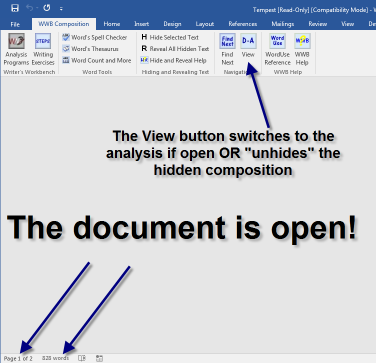 You are probably viewing this page because you are using Microsoft Word 2016 and the composition sporadically disappears.

Writer's Workbench operates as a "plug-in" to Microsoft Word, and Word 2016 is not as friendly to plug-ins as previous versions of Microsoft Word.

This problem usually occurs after closing an analysis but can occasionally occur after just opening a document.

The work-around is easy but not obvious without instruction.

If you click on the D-A View button when an analysis or other document is open, you will toggle to the analysis. If you press that button when the composition is the only document opened, the document becomes readable again.

Back to Writer's Workbench Support Page