Writer's Workbench Problem with Temporary Files
Click here for a brief video tutorial on how to set attributes for WWB's temporary file folder.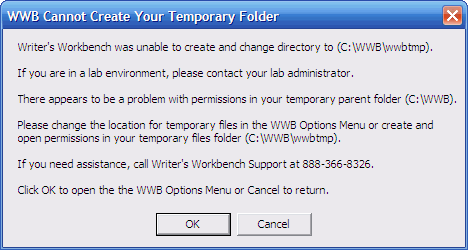 By default, Windows Indexing is turned on. Windows indexing must be turned on for the Writer's Workbench temporary folder.
In addition, the temporary folder (wwbtmp) must not be compressed nor encrypted.
Depending on the version of Windows and Word being used, a user might see the message that "WWB Cannot Create Your Temporary Folder" after double-clicking on the "Writer's Workbench" icon.
If you are are an individual user of Writer's Workbench or if you have a copy of Writer's Workbench as an instructor from a site-licensed school, you will probably go to the "Writer's Workbench Options Menu" after clicking "OK."
Exit the WWB Options Menu and Microsoft Word and follow the INSTRUCTIONS BELOW.
---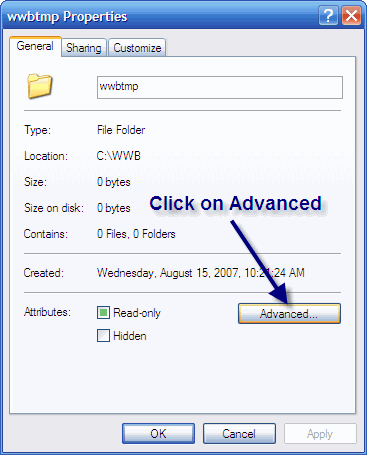 If you a computer administrator, you will probably return to Word after clicking "OK." Please follow the instructions below. If these instructions get too technical, please call (630)548-4219.
INSTRUCTIONS BELOW:
Go to "My Computer" and double-click on the Hard Disk Drive that has "C:" associated with it.
Browse to the "WWB" folder.
Note: If you changed the "Writer's Workbench Temporary File folder" (advanced WWB setup) through the WWB Options menu, browse to that folder.
Right-click on the "wwbtmp" folder and left-click on "Properties" at the bottom.
Click on the "Advanced" button.
---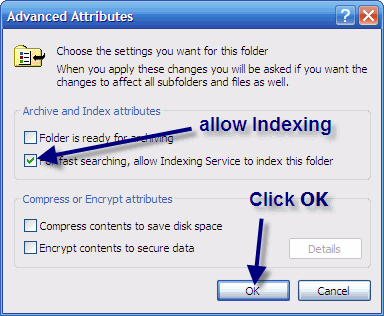 Click (make sure that the box is checked) on the "For fast searching, allow Indexing Service to index this folder"
Note: make sure that the Advanced Attributes for this folder do not have either "Compress or Encrypt attributes" checked.
Click "OK" and then double-click on the "Writer's Workbench" icon on your desktop.

Back to Writer's Workbench Support Page