Writer's Workbench Problem with Characteristics - Style Statistics
and Punctuation - Possible Fragments and Long Sentences

This article is provided primarily for those using old versions of Writer's Workbench. If you encounter these problems, please let us know. We have not received any reports of these symptoms for a couple of years.
The Style programs used for analyzing word types and sentence structures are very complex.
Occasionally, these programs can be confused by periods used improperly or when multiple periods, question marks, or exclamation points are used together.
In older versions of Windows (Win '95, Win '98, Win ME), strange punctuation might produce an error while creating the analysis.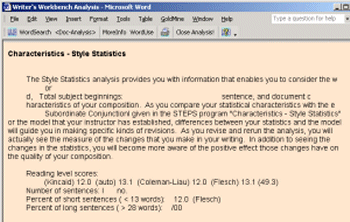 The Style sheet normally provides numerous statistics about a composition in four major areas - Sentences, Verbs, Sentence Beginnings, and Other Information. When the Style programs get confused, very few statistics are printed, and none of the Headings are printed like the display on the right.
Similarly, when the "Possible Fragments and Long Sentences" analysis becomes confused by the periods or exclamation points, it might print something like the following lines.
pos noun , pos noun , conj pos noun . art
noun verb . subcj

verb art noun noun adv pron subcj noun verb , noun
prep art noun prep noun subcj noun verb noun . (
The problem can be solved by closing the analysis and searching the composition for two or more periods typed together (..), two or more exclamation points typed together (!!), or a space before a period (_ .). After you have found this strange punctuation in your composition, fix or hide (H) them and re-run the analysis.
In releases prior to WWB 8.15, (Mr.), (Mrs.), or (Ms.) at the beginning of a sentence can confuse Style or Fragments / Long Sentences. If this problem occurs, highlight that text and hide (H) them and re-run the analysis.
PLEASE LET US KNOW if you encounter these symptoms; we believe that this problem has been fixed.

Back to Writer's Workbench Support Page